Creative Collaboration With Clients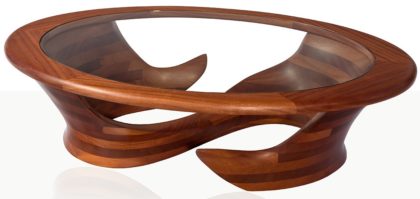 Desert Canyon Sculpted Coffee Table.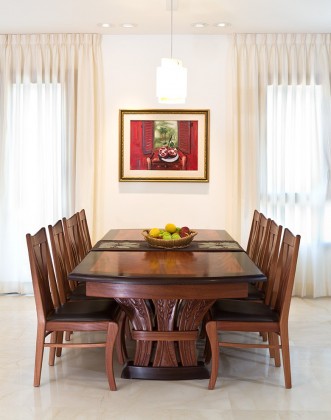 "Sheaves of Wheat" Dining Table with Chairs.
Dear Clients and Friends,
In my work I enjoy two different kinds of creative energy. First, I make non-commissioned pieces, either functional or purely artistic, as a way of exploring a certain theme or design. This offers me freedom to experiment with new ideas and techniques. Second, I mostly create pieces commissioned by clients. This offers me a chance to work in creative partnership with the client, to arrive at the design he or she is striving for, often without even knowing it.
It is often while designing a piece on commission that I find myself most technically and artistically engaged. Some of my favorite innovations and novel designs have been stimulated by clients' requests.
As we get to know each other remarkable things can happen. I gain a deeper understanding of what the client really desires, and he or she develops an appreciation for the design process and the great potential it holds.
Many of my relationships with clients have continued and deepened over the years. These have afforded plentiful opportunities for shared exploration embraced by mutual respect.
Our shared goal is to create the ultimate pieces, perfectly suited for the spaces they are to occupy. Working together can be exhilarating–a learning experience for both the the client and myself. All the pieces shown here grew out of such a shared experience.

"Integral Wave" Entranceway Cabinet.
I look forward to meeting new clients and working with them to design the piece of their dreams. I invite you to see much more of my work, including many new pieces, in my web site at www.kimchidesigns.com.
Please feel free to contact me if you have any questions:
Studio Phone: (972) -2-535-4874
Mobile: (972) -52-321-3980
e-mail: kimchi.jeremy@gmail.com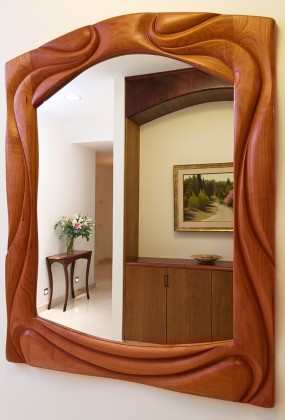 Regal Sculpted Mirror, with addition works by Kimchi seen in reflection.
©2015 kimchi designs | Kfar Adumim