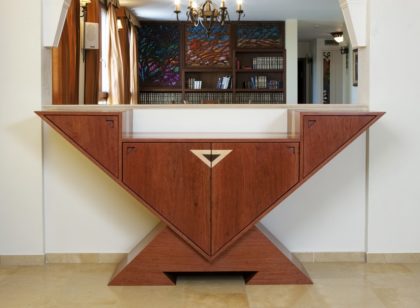 In my work as an interior designer and architect I have worked with Jeremy Kimchi on several special projects. In my opinion Jeremy is truly a wood artist. In his craft he combines art with  a high level of skill. He understands and "breathes" the wood in all of its kinds and forms.
It's a pleasure to follow Jeremy's process of creation: from the initial sketches marked out  by hand on graph paper, until the completed piece, standing like a jewel in its intended space.
Jeremy is attentive to the clients' desires, yet at the same time he knows to give each piece his special touch.
Martine Ansbacher – Interior Designer, Jerusalem, Israel
(Translated from Hebrew)