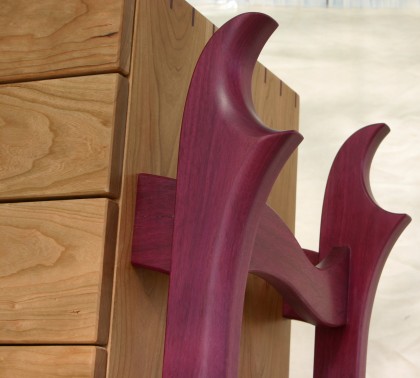 There is no doubt that ordering custom furniture offers the client great possibilities for acquiring truly original works of functional art that meet and even surpass what he or she desires. While some people might feel daunted by the prospect of ordering designer furniture, it's actually a positive adventure in which both the client and I strive to achieve the best possible solution for a given space. This is a mutually rewarding process which in the end yields a piece of fine woodwork perfectly fitted to the client's taste.
For over twenty years I've been working both directly with clients and through interior designers and architects. I believe that I have polished my ability to carefully listen and observe, thus enabling me to discern what the client's preferences are. I have also developed an eclectic but clear sense of design, allowing me to grasp the existing essence of an interior-and how it might be altered to create a more interesting and beautiful environment. Often the mere addition of a custom made accessory or two can bring new life and warmth into a room. The "Flying Fox" Serving Table, for example, was commissioned to be placed in a dramatically lit atrium in a regal home in Memphis, Tennessee. It's bold, angular lines accentuate the stark drama of the space which it occupies.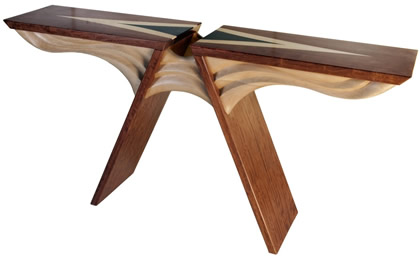 Ordering custom furniture has the additional advantage of enabling the clients to realize their dreams. I have one client whose daughter was an avid equestrian. We designed their entire dining room around the theme of horses jumping. Another couple described their desire that the bedroom should reflect a sense of quiet intimacy. Hence the "Forest Canopy Bed" was conceived. Yet another client requested that the fine woodworking in their furniture should manifest itself in the sculpted base of their "Sheaves of Wheat Dining Table". Later I implemented this carved motif on the backs of the accompanying dining chairs.
In short, I strongly believe in the potential for great pieces of designer furniture when there is meeting of open minds and positive energy. In addition to getting the fine woodwork of their dreams, clients get to feel that they took an integral part in the design process. I believe that's one of the reasons why many clients keep coming back for more.