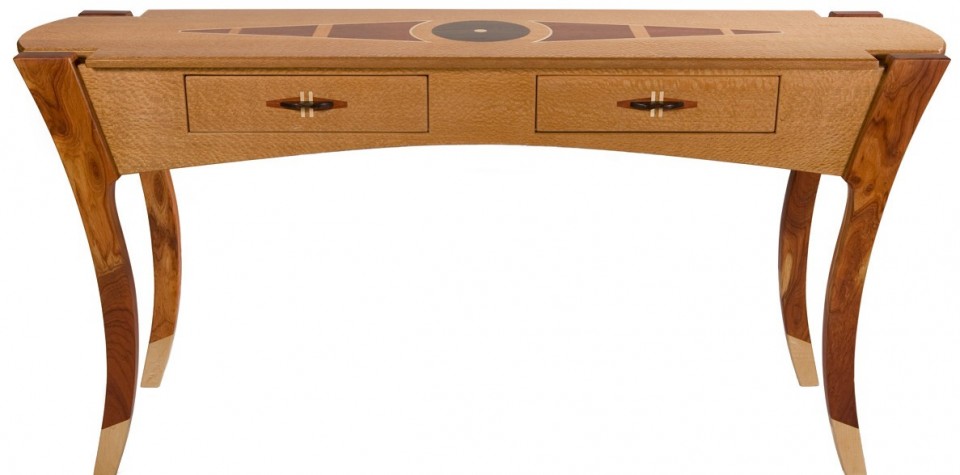 "So, what are you?" I am often asked, "A woodworker, a designer, an artist?" As I move further into the third decade of doing what I do, I find it increasingly difficult to define, and less important to do so.  Despite this, I occasionally find myself with no alternative but to give verbal definition to my creative endeavors. When pressed to the wall I will say: "I'm a wood artist," and hope that this will satisfy my interlocutors. If they continue to look at me with a rather fuzzy expression I might be tempted to add that I create functional art in wood, that I design and construct unique handcrafted furniture, or perhaps that I create custom designed art furniture. As can be seen, the possibilities that could pertain to my work are numerous and varied.

I believe the reason for this vagueness stems from the modern tendency to completely differentiate between "Art" and "The Decorative Arts". This orientation is held in high regard by many trend setters, such as architects. I would be the first to admit that the word "art" has been sorely overused. I'm certainly not referring to the "art" of cooking a hamburger, or even the "art" of turning a finely made bowl on the lathe. This should be termed "artistry", meaning the skill with which one executes the pieces he or she makes.
I don't intend to embark now in a learned discourse on the definition of "Art". What interests me here is the simple fact that I see myself as an artist, who combines the artistry, or craft, with the intangible qualities, or spirit, inherent in the creation of art. Over time I've come to the realization that what I really want to do is to create wood art that people will engage with on an emotional level. This isn't to say that I don't also enjoy simply designing and making an attractive piece of handcrafted furniture. However, my higher aspiration is to create wood art that inspires, that causes people to pause, come closer and interact with the piece. One of my clients tells me that the first thing he does when he returns home after a long day at work is to run his hand along the surface of the sculpted cabinet I made for the entrance to his home.  The image of my client revitalizing himself by simply caressing a piece of handcrafted furniture that I created for him epitomizes the kind of immediacy that I strive to invoke with my work. Other types of work invoke different responses. For example, the bold carving of the Golan Rennaissance aron kodesh (torah ark) leaves  little room for apathy. Newcomers to the synagogue which it adorns will often literally stop still as they enter the sanctuary. They seem to realize immediately that this wood art speaks a different language, both majestic and personal at the same time.
So, in summary, have I succeeded in defining what it is I do? I'm not sure that I did. But I hope to have given the reader a greater insight into what makes me tick. Functional art? Handcrafted furniture? Custom designed furniture? These are all facets of my wood art. My goal is to blur the distinction between art and craft by creating beautiful, functional pieces that do much more that just hold a pair of socks.