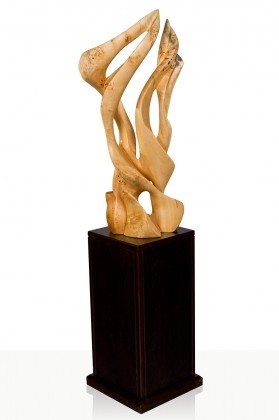 A large portion of what I make is custom designed fine furniture. I enjoy the challenge of solving the client's needs in an original and aesthetically pleasing way. It gives me satisfaction to know that the clients (and their children and grandchildren) will be savoring the sensuous feel of a hand carved drawer handle or table top for years to come. However, I often heed the pull to create wood art for the sake of art itself. Whether I'm working on a wall sculpture or a three dimensional wood art piece I enjoy the freedom from the technical requirements inherent in my functional creations.
I will sometimes begin sculpting a particularly promising log with little more than an abstract theme in mind. "Letting the wood show the way" is not a concept I invented, although I have certainly added my own interpretation to this approach. Observing the "Entwined Flames" wood sculpture, one can easily imagine how I just let myself go, until eventually the sculpture basically told me it was finished. Occasionally what could be considered a defect in the log can become the impetus for an entirely new and exciting direction in the wood sculpture. At other times I will commence work on a wall sculpture with a very concise idea of how I want the finished piece to look. One of the beautiful aspects of wood sculpture is that each creation is truly unique by virtue of the nature of the material. Every log or board offers slightly different accents of color and grain texture. While I carve away the layers on a wood sculpture I seek to expose and show off these subtle variations in order to augment the depth and allure of the wood art.
| | |
| --- | --- |
| | |
I would like to note that in addition to executing ideas of my own I also create custom made wood art sculpture. One elderly lady from Portland, Oregon commissioned an abstract family tree depicting all her offspring. Another client ordered a sculpted wall hanging of a couple as an anniversary gift for his wife. And, of course, synagogues have an abundance of good opportunities for wall sculpture. A prominent example thereof is the "Twelve Tribes" wall sculpture which can be seen in the synagogue furniture section of this site.
In summary, wood sculpture offers endless possibilities to explore forms and ideas and create unique artistic expressions that add warmth and beauty to any space.